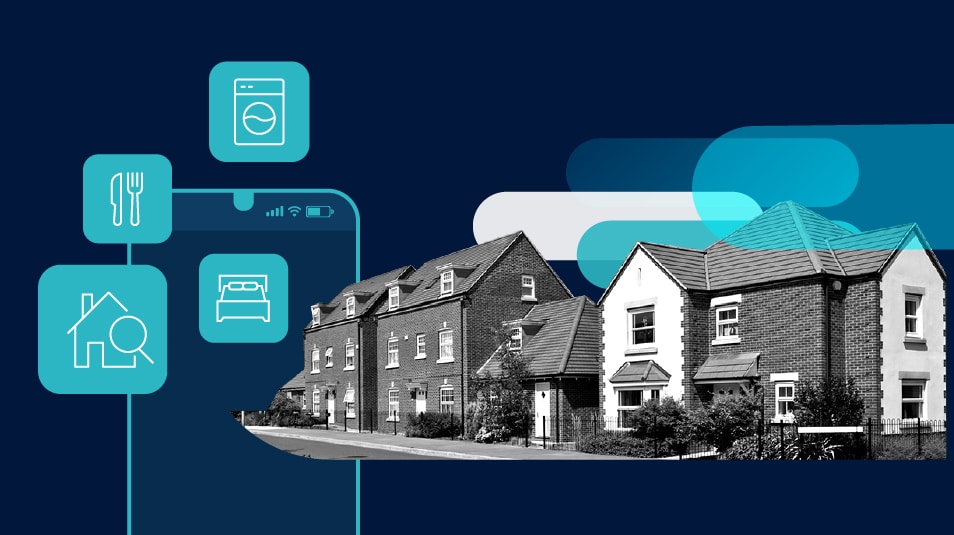 In our daily lives, most of us use apps on our mobile phones constantly. In fact, research by eMarketer in the US in 2019 found that the average American spent 3 hours and 10 minutes a day on their mobile phones, with 90% of that time being spent within apps. I'll leave it to you to consider whether this looks like anyone you know, or the 'average Briton'.
However, of the 80 apps that the average American had installed on their phone, they were actually using around 30 apps per month. What does that mean? Well, it's clear that well over half of the apps installed on people's phones are not being used regularly. In fact, apps are declining in popularity as app-like web-based experiences become better on mobile devices.
Apps and Business
For businesses, apps can be a double-edged sword. They often solve a problem, but don't talk to other systems nicely. It's like sticking a plaster on an infected cut, but not dealing with the infection underneath that could have serious, systemic consequences. IT Departments and Chief Data Officers face company employees requesting that they install multiple apps onto the company's IT system, with little or no thought for the wider ramifications. Data security, app quality and integration issues are hugely important at a business-wide level, but users often don't appreciate that. They just want a fast fix to their problem – and they think an app will do that.
Changing demographics mean that our younger adult generations are digital natives. They are used to digital economies and to managing their lives online. In terms of customer expectations, digital natives demand a smooth and secure, hassle-free experience. The biggest challenge that companies face right now is how to manage data and processes as customers move to a completely online experience.
What about PropTech?
Just like many other sectors, PropTech faces the same issues when it comes to apps. As it stands, there are some providers who are currently pitching a self-organised "PropTech stack". I'm founder of a proptech company and the thought of managing the data securely and effectively from that sort of so-called solution makes me feel very twitchy. It would be pretty much impossible to do. Some CRM providers are offering bolt-on additions that easily integrate with an existing sales CRM system, but both of these approaches fail to acknowledge the key question that every business must answer:
What will your business really need in the future?
And leading on from that, does your business plan incorporate technology?  If not, with customer expectations now sky high, you run the very real risk of your business being left behind the competition.
An agile future
There are many advantages to being a large-scale business, but there are also pitfalls. Small owner-operated businesses find it far easier than larger chains to be agile, to tweak their business model and operations as needed, fast. For larger firms, is the right way to master agility really to embrace a series of focussed apps for the different parts of a business? The answer depends on the information that's critical for each component part of an organisation. For estate agents, it's the leads list. For property management businesses, it's the accounts, documents and audit trail.
The Data Management Burden
Where there's a lot of data to manage, update and connect together, then buying in or building an ecosystem of apps will create a nightmarish scenario. Trying to get the right information somehow to the right people and back again will be difficult and carries significant, inherent risk of failure at multiple points.
The best way to make sure that an organisation avoids these expensive mistakes is to make sure that your supplier genuinely understands technology and is truly committed to working with customers to stay ahead of tech trends. Otherwise, your data will end up all over the place.
Some will say that if all of your data is pooled into a 'data lake' then everything should be alright. But unless you have a well thought out data strategy behind that – resulting in high quality analysis – then you will only ever be able to see the dark surface of the lake, with no access to the potential riches hidden in the depths below. Even worse, you may find you have a 'data puddle' rather than a useful lake.
In reality, the best choice for any large-scale business will be to enter into a strategic partnership with their supplier. To find a partner who will build a tech-enabled future for your business. The focus should be on the business part of the equation, not the technology.
Integration Demystified
As proptech pioneers, at TBL, we're constantly looking at what's on the horizon in order to support our clients better. Our approach is to take a holistic view of a business's needs, both now and for the future. We advocate having a central line of business system – a company-wide technology backbone – where detailed data is collected and can be analysed and re-directed easily. On top of that core, foundational layer, we can add third party integrations and bespoke apps that talk the same language and work incredibly well together, because they are designed to enable deep, rich and secure data transfer.
With an API-based approach, well planned and thought-out integrations can be added as needed, all speaking the same language fluently.
With a system based on apps that are to all intents and purposes cobbled together, there are serious communication issues because the levels and format of the data are all different. It's like all the apps are speaking entirely different languages. And as anyone who speaks a foreign language knows, you can try to add in a digital translator of some kind, like Google Translate, but the results are far from ideal, with the context of the translated words often being the biggest issue. And so it is when different apps are put together with an expectation that they'll be able to communicate well and most importantly, that you'll get the information you need!
With an API-based approach, well planned and thought-out integrations can be added as needed, all speaking the same language fluently. Through our PropCo system for lettings agencies, we've been able to very successfully add integrations for Tenant Onboarding and HMO compliance. For example, PropCo's Tenant Onboarding will save the average lettings firm 60 hours of agent time, per branch, per month. Now imagine the cost and time savings that are possible at scale, where large agencies have tens or hundreds of branches. We've also created portals for different stakeholder groups, so for the agent, the landlord and the tenant, where they only see what they need, but they can also see what the other parties have done. Everyone knows where they are in the process and who's done what. That transparency and sophisticated data-sharing is only possible through a deep and rich information management platform that communicates in and out through a great API.
One platform to rule them all!
It's not hard to understand why, if all the information sits within a central system, it will work far better than if it were spread out over multiple systems.  One central system will be able to handle detailed, complicated data and do a lot of work behind the scenes, effortlessly. When we looked at other PropTech portals that serve up apps that digitise a slice of the process, we realised that there was a big problem – there were no services that passed on key data into other client central systems, like accounts, property management, marketing, communications and reporting. We wanted to offer our clients a more complete service that met their strategic needs.
When we collaborated with FixFlo, we created a market-leading integration that took the tenant-reported issue from FixFlo and allowed the agent, tenant, landlord and contractor to move it to resolution with complete transparency – and most importantly – a business audit trail.
A partnership approach between client and tech supplier is key to business success, no matter what the sector. When organisations fully engage with tech experts, for obvious reasons, it creates superior results for the client. Changing an API should always be a collaborative journey by supplier and client that takes a whole company view.
For similar reasons, it's not a good idea to build your own system. As proptech experts, we are able to help firms to build a complete data picture. We do this by respecting the integrity of the existing IT structure and tailoring the central business system and any other integrated functions to ensure the unobstructed flow of deep, rich data, so that our clients get the right information, at the right time, in the right place. Working with this holistic mindset enables us to create genuine digital transformation, revolutionising tedious and admin-heavy tasks like lettings compliance and tenant onboarding.  Taking a DIY approach tends to lead to a hotchpotch solution which doesn't have the future in mind and whose constituent parts don't generally talk nicely to each other.
Start as you mean to go on
If you start out to build a central business system that has high data quality at its core, then you're on the right track. Knowing – and being able to audit – what happened, when and by whom is vital and can't be sorted out as an afterthought.
This, in conjunction with a clear, holistic view of your business's future and engagement with a strategic technology partner will ensure that your operations are streamlined, the constantly changing regulatory environment is handled with ease and most importantly, your customers experience will be smooth and enjoyable.
And there's definitely not an app for that.
Related Insights: